FOR MODELS




Are you a model, webcammer, e-girl, influencer, etc. and want to post on Sexychan with your nickname and an official Sexychan tag?
The following information is interesting for you.




WHAT IS SEXYCHAN OFFICIAL TAG?


As you may already know, most of the posts on Sexychan are anonymous. If you are a model, webcammer, e-girl, influencer, etc. and you'd like to post on our boards using your nickname and an official tag, it may be possible if you meet some requeriments.

Why you should want to post using your nickname and tag? It's easy. Your nickname and tag let the community know that it's yourself who is posting, and not other person impersonating you. It's yourself sharing your content and promoting your official channels and accounts: OnlyFans, Patreon, social networks, etc. This way you increase your popularity and visibility and get new subscribers.

This is how posts with nickname and tag look: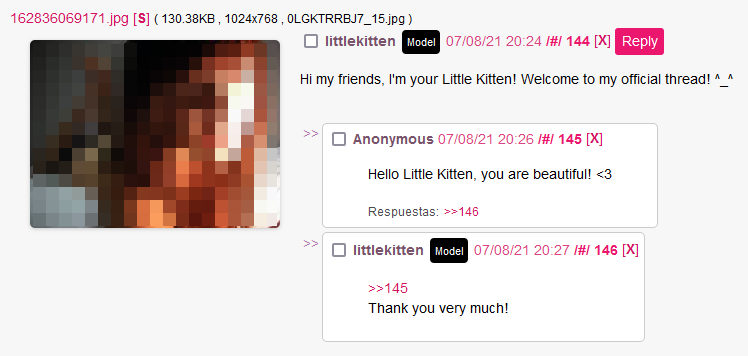 HOW DO I GET MY OFFICIAL TAG?


To get your official tag you need to have at least 1.000 subscribers on at least one of your social networks (Instagram, TikTok, Youtube, Twitter...). If you already meet this requeriment, contact us including the following information:

1. Links to your social network profiles.
2. A photo of you to prove your identity (you can hold a paper with the current date, or "Sexychan" written on your skin). It will be useful to verify it's really you.
3. Username and password to create your account. The username is the nickname that will be shown on your posts.

If all the information is correct, in less than 48 hours we will reply to your email explaining how to log in and finally post with your nickname and new official tag. If you have any questions, don't hesitate to contact us! :)





LIMITATIONS


• You only can use your nickname and tag to create your own threads and post on threads created by you. It's not possible to post with nickname and tag on threads created by other users. On those you need to post anonymously.

• Althought you have an official tag, it's possible you see other users still posting your content. Take it as they really like you, Sexychan is full of sexy girls and boys, so if they share your content it's because they find you sexy. However, if you feel your content it's being posted without your consent, you can request its removal.